Much fun. I drew this based on a photo of Slash (from the band Guns and Roses) I found online. Even though I've been so enamoured with the Digital Caricatures lately, I worked directly on paper this time. Getting back to basics.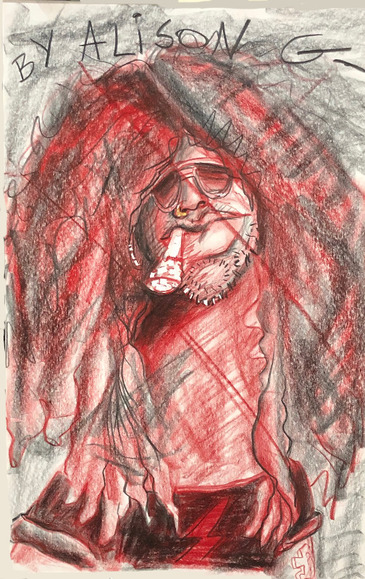 I call this my Portrait-Style Caricature. Still Exaggerated, but it's based on face with features, instead of just Shapes and Feeling. Which is what I would have done if I was doing what I call an Exaggerated Caricature. All good, but I have to know which Style I'm doing ~ it's much more comfortable if I know whether I'm going for 'My' Portrait Style Caricature Or My Exaggerated Caricature Or a Regular Straight Portrait.
Like a person who knows how to cook can put Carrots into a Cake. But she has to know whether she's aiming to make Cake Or Salad when she's working. So please do be clear when you contact me at optidust@gmail.com to order your Commissioned Artwork. Artwork can't be confined, artwork can't exist before it is Created, but I do want know what direction you prefer.
I'm available for Commissions. I can draw Caricatures on Paper from your photos, and then mail them to you through the Post Office. OR if you prefer, I can draw them on the IPad and then just email them to you. Prices are currently Slashed low because I want to make things a little easier, a little nicer for my precious Clients during this Corona Virus situation.

Party Entertainment Ideas Inc ~ Event Entertainment for Party Planning in New York, Long Island, Nassau County, Suffolk County..... Caricatures, Digital Caricatures, Fashion Sketches, Graffiti, Calligraphy

You can click on most of the pictures in this blog to see them larger.
To Contact a Live Person:
partyentertainmentideasinc@gmail.com

Birthdays ~ All Ages, Children, Teens, Adult, Holidays, New Year, Christmas, Communion, Anniversary, Reunion, Graduation, 4th of July, Thanksgiving, Banquet, Surprise Party, Dinner Party, Garden Party, Reception, Openings for Stores or Schools or Camps, Prom, Afterprom, Bar Mitzvah, Bat Mitzvah, Sweet 16, Dances, Wedding, Engagement, Showers, Farewell Party, Cast Party, Housewarming Party, Baby Shower, Wedding Shower, Labor Day, Halloween, Mardi-Gras, New Year's Eve, Chanuka, Purim, Super Bowl Sunday, and more...... Caricature, Karicature, Characature, Carackature, Carikature, Characatures, Cartoonist, Long Island, Nassau County, Suffolk County, Merrick, Garden City, Brookville, Copiague, Franklin Square, Huntington, Lynbrook, Point Lookout, Long Beach, Lido Beach, Cedarhurst, Wantagh, Lawrence, Hewlett, Woodmere, Levittown, Mineola, Great Neck, Mineola, Port Washington, Roslyn, Manhassett, Oyster Bay, Woodbury, Bethpage, Jericho, Plainview, Brookville, Locust Valley, East Norwich, Massapequa, Patchogue, Wading River, Port Jefferson, Stony Brook, Setauket, the Hamptons, Sag Harbour, Northport, Cold Spring Harbour, Commack, Lloyd Harbour, Commack, Quogue, and more.....