This is one of those times when I'm reminded that I'm Working for these people. A Servant. But by the time the Party ended,
I would have forgotten about all the difficult conditions if not for my Headache. The guests were really turning on to the activity by then, and that feels good. The guests were very happy. But I knew I was Working for them. I was well aware that I was there for Their joy. Even though I was feeling uncomfortable.
It started like this: There I was, happily coming in An Hour Early to set up. I usually show up less than a half hour before I'm scheduled to draw. But this time, I felt happy and giving ~ Walked in plenty plenty early ~ Figured I'd have plenty of time to set up just ever so ~
I'd worked at this Venue before, so I knew what the space was going to be like. The previous time I had worked here, I was allowed to take over the whole Stage. I liked that.
But different clients plan different activities. So many good ideas. Turned out that this client wanted to use the Stage to have photos of their people showing on the big screen throughout the event. But that meant that I couldn't set up in such a way as to block 'movie'. I was actually told, and this seemed ridiculous, to set up on a 'leg' of the stage that came from the side of the stage. This was an elevated stage-like area that was only 3 or 4 feet wide before we'd fall off the edge. No barrier, one flamboyant step, and I'd take a fall.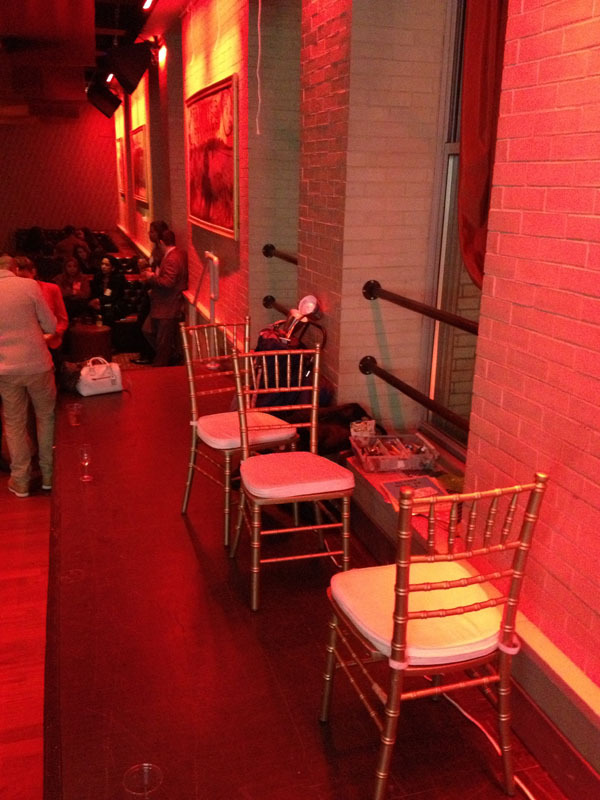 And the lighting was not only very low, dark; they also had constantly changing Colored lights. Red. Yellow. Blue, Red, Yellow, Blue, Red.... No room for any sort of a table to hold the papers and supplies on that stage-leg. No room to set up my easel because the guests could fall off the stage while trying to walk passed it. I set up as close as I could to the wall..... well, window. I had a real Cold draft coming in from that window. This was nothing like the previous time(s) I had worked here. Oh. Okay. I'm here to add to their fun. And they had lots of different activities to choose from.
A Corporate event. Many people meandered in late. It was a slow start. I kept at it. I pushed for interactions. I got them laughing. The Party warmed up. People got involved. And I made some Fun pictures. I'll show some here ~ I tried to make the photos as visible as I could. Can you see the quick drop from my setup by noticing the man that is standing on the lower floor at the end of the stage-leg?

Party Entertainment Ideas Inc ~ Event Entertainment for Party Planning in New York, Long Island, Nassau County, Suffolk County..... Caricatures, Digital Caricatures, Fashion Sketches, Graffiti, Calligraphy

You can click on most of the pictures in this blog to see them larger.
To Contact a Live Person:
partyentertainmentideasinc@gmail.com

Birthdays ~ All Ages, Children, Teens, Adult, Holidays, New Year, Christmas, Communion, Anniversary, Reunion, Graduation, 4th of July, Thanksgiving, Banquet, Surprise Party, Dinner Party, Garden Party, Reception, Openings for Stores or Schools or Camps, Prom, Afterprom, Bar Mitzvah, Bat Mitzvah, Sweet 16, Dances, Wedding, Engagement, Showers, Farewell Party, Cast Party, Housewarming Party, Baby Shower, Wedding Shower, Labor Day, Halloween, Mardi-Gras, New Year's Eve, Chanuka, Purim, Super Bowl Sunday, and more...... Caricature, Karicature, Characature, Carackature, Carikature, Characatures, Cartoonist, Long Island, Nassau County, Suffolk County, Merrick, Garden City, Brookville, Copiague, Franklin Square, Huntington, Lynbrook, Point Lookout, Long Beach, Lido Beach, Cedarhurst, Wantagh, Lawrence, Hewlett, Woodmere, Levittown, Mineola, Great Neck, Mineola, Port Washington, Roslyn, Manhassett, Oyster Bay, Woodbury, Bethpage, Jericho, Plainview, Brookville, Locust Valley, East Norwich, Massapequa, Patchogue, Wading River, Port Jefferson, Stony Brook, Setauket, the Hamptons, Sag Harbour, Northport, Cold Spring Harbour, Commack, Lloyd Harbour, Commack, Quogue, House Parties, Venues, Catering Halls, Restaurants, and more.....