Drawing Couples. Or Small Groups of People. I usually tell them that they All have to be with the Artist the Whole Time that all of them are being drawn. Because I compare back and forth to coordinate a Group Caricature.
Tonight I wanted to see if I could handle it if I just saw one of them at a time ~ having no idea what the others look like until I get up to them. I used photos of men's faces that I found online. I set out to draw 3 people on the page. I chose one photo at random, drew that. Then I chose another photo at random and drew that one one the same page as the first. Then again with the 3rd face.
It turned out okay. I ended up with an excellent Caricature. If I Had to draw that way. But I still plan on requesting that they All hang out by the Artist the whole time that I am drawing a Group Caricature. Because I recognize that the interplay of shapes is missing.
The Guests would have felt happy with this Caricature. They wouldn't have known the difference, but there is a design element that is missing if I can't see them all the whole time I'm drawing the picture: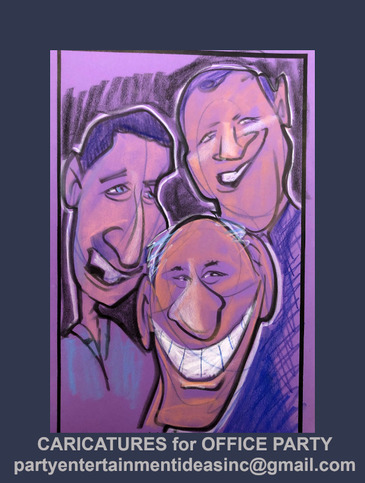 Lol ~ It would be like..... I wonder if I could draw by seeing just the eyes...... then just the neck...... etc. If I was sticking to Face-Formula, it might be possible, but it sure would be missing the relationships

Party Entertainment Ideas Inc ~ Event Entertainment for Party Planning in New York, Long Island, Nassau County, Suffolk County..... Caricatures, Digital Caricatures, Fashion Sketches, Graffiti, Calligraphy

You can click on most of the pictures in this blog to see them larger.
To Contact a Live Person:
partyentertainmentideasinc@gmail.com

Birthdays ~ All Ages, Children, Teens, Adult, Holidays, New Year, Christmas, Communion, Anniversary, Reunion, Graduation, 4th of July, Thanksgiving, Banquet, Surprise Party, Dinner Party, Garden Party, Reception, Openings for Stores or Schools or Camps, Prom, Afterprom, Bar Mitzvah, Bat Mitzvah, Sweet 16, Dances, Wedding, Engagement, Showers, Farewell Party, Cast Party, Housewarming Party, Baby Shower, Wedding Shower, Labor Day, Halloween, Mardi-Gras, New Year's Eve, Chanuka, Purim, Super Bowl Sunday, and more...... Caricature, Karicature, Characature, Carackature, Carikature, Characatures, Cartoonist, Long Island, Nassau County, Suffolk County, Merrick, Garden City, Brookville, Copiague, Franklin Square, Huntington, Lynbrook, Point Lookout, Long Beach, Lido Beach, Cedarhurst, Wantagh, Lawrence, Hewlett, Woodmere, Levittown, Mineola, Great Neck, Mineola, Port Washington, Roslyn, Manhassett, Oyster Bay, Woodbury, Bethpage, Jericho, Plainview, Brookville, Locust Valley, East Norwich, Massapequa, Patchogue, Wading River, Port Jefferson, Stony Brook, Setauket, the Hamptons, Sag Harbour, Northport, Cold Spring Harbour, Commack, Lloyd Harbour, Commack, Quogue, House Parties, Venues, Catering Halls, Restaurants, and more.....