This Artist is having a rough time of it today. I could barely get a glance in to see this Baby that I had drawn at a recent Baptism. Difficult for the Artist, but a Professional Party Artist already expects that. It's certainly Not unusual that a new Baby's Caretaker fusses around with the Baby a lot. But then, preparing it to post it here ~ that was Really difficult.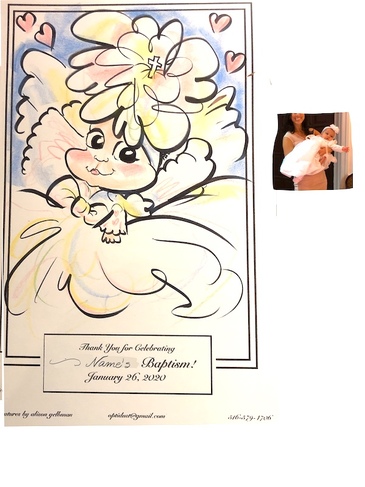 I needed to get a New program for handling my pictures. I got Gimp, and I had recently spent Hours on Just One picture ~ to figure out how to use the new program. I didn't want to go through all that again, so I figured it would be easier to just handle this Picture Presentation through Procreate.
So I took the Photos off my Phone to get them onto my Computer. Then I chose the few that represented This One Caricature. I emailed them to myself so I could find them on my IPad to get them in to Procreate. But that didn't work correctly either. I could see them in the email on my Computer, but the pictures did not arrive on my IPad. So I went back to the Computer and emailed them to myself again ~ this time as attachments. That came through in the email on my IPad fine. But the 'Send to Procreate' wasn't working right. Until my mind rebooted. But it still involves both Procreate And Photos in order to bring two pictures together in Procreate. Worked my magic with that, then emailed the combined picture back to myself so I could open it on my Computer to get it here onto my website. But it was looking so dull ~ I had originally drawn it on bright white paper, but the Photograph of it, perhaps because of lighting in the room?, the photograph of it came out dull. So I was able to open it in a program on my computer called Preview where I was able to change the Lighting, but I wasn't able to Select only the part that I wanted to brighten up ~ Preview doesn't do that ~ so I ended up brightening up the Whole 'collage' the same I guess that's alright. And I was able to change the Size in Preview yay so the file wouldn't be so big and here it is Good Night all the different ways of using all the different apps are jumbling up in my head it's not as easy as switching from one type of Car to a different type of Car. Even though they all do similar things, the 4 Large Image Editing Programs that I use all have different places to find their tools and each tool has to be customized and studied differently for each different program.
Wasn't I just supposed to be a Caricature Artist?

Party Entertainment Ideas Inc ~ Event Entertainment for Party Planning in New York, Long Island, Nassau County, Suffolk County..... Caricatures, Digital Caricatures, Fashion Sketches, Graffiti, Calligraphy

You can click on most of the pictures in this blog to see them larger.
To Contact a Live Person:
partyentertainmentideasinc@gmail.com

Birthdays ~ All Ages, Children, Teens, Adult, Holidays, New Year, Christmas, Communion, Anniversary, Reunion, Graduation, 4th of July, Thanksgiving, Banquet, Surprise Party, Dinner Party, Garden Party, Reception, Openings for Stores or Schools or Camps, Prom, Afterprom, Bar Mitzvah, Bat Mitzvah, Sweet 16, Dances, Wedding, Engagement, Showers, Farewell Party, Cast Party, Housewarming Party, Baby Shower, Wedding Shower, Labor Day, Halloween, Mardi-Gras, New Year's Eve, Chanuka, Purim, Super Bowl Sunday, and more...... Caricature, Karicature, Characature, Carackature, Carikature, Characatures, Cartoonist, Long Island, Nassau County, Suffolk County, Merrick, Garden City, Brookville, Copiague, Franklin Square, Huntington, Lynbrook, Point Lookout, Long Beach, Lido Beach, Cedarhurst, Wantagh, Lawrence, Hewlett, Woodmere, Levittown, Mineola, Great Neck, Mineola, Port Washington, Roslyn, Manhassett, Oyster Bay, Woodbury, Bethpage, Jericho, Plainview, Brookville, Locust Valley, East Norwich, Massapequa, Patchogue, Wading River, Port Jefferson, Stony Brook, Setauket, the Hamptons, Sag Harbour, Northport, Cold Spring Harbour, Commack, Lloyd Harbour, Commack, Quogue, House Parties, Venues, Catering Halls, Restaurants, and more.....