Warming up for today's gig. I used the first photo that popped up on my website. The less animated photo of the first people that I posted in the previous post about the Fun Office.
First I drew a nice plain Caricature like the ones I see online. Nice:
And then the other lady. Not my greatest, but okay: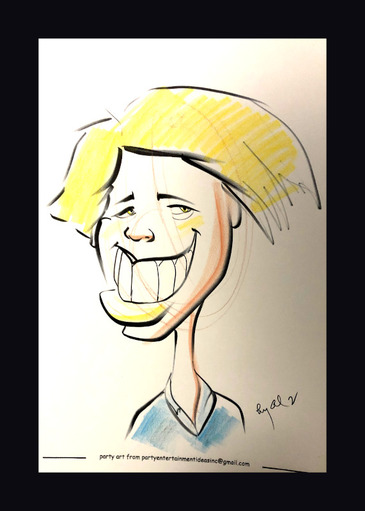 Then, even though it's more fun for the Artist to draw Individuals, I drew them together on one paper. Because it's sometimes requested at Parties: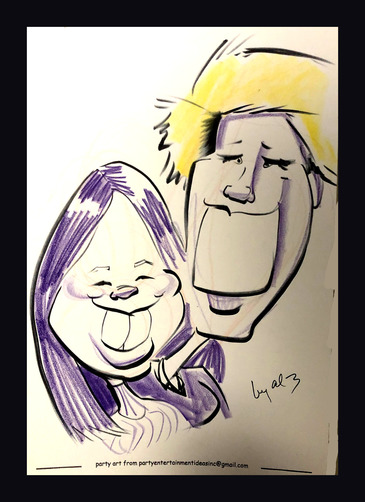 Okay. I'm feeling constrained. I switched to Exaggerated: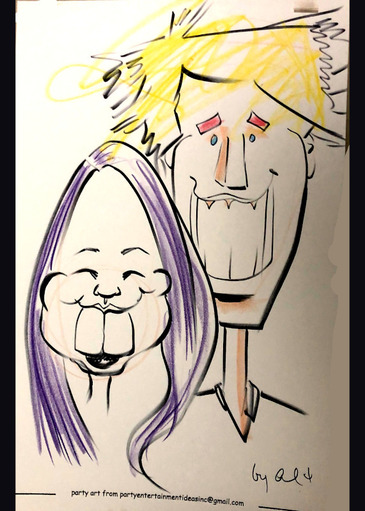 Okay. But it's not quite Enough. Even though I had gone for the Exaggeration, I still felt constrained by my initial project here tonight ~ of drawing 'Face', aka eyes nose mouth. So I just gave up on drawing it 'Right', and I did it in My Own Style. Exaggerated and free.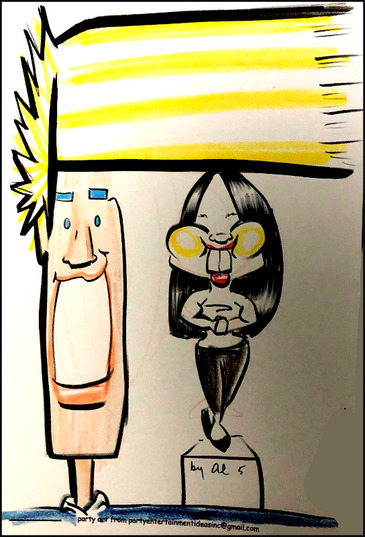 Obviously, the style I developed is Better. It evolved through years of Experience. I am reminded once again to Stop second guessing myself.
A person would much rather display the upbeat creative freely Exaggerated picture in the house!

Party Entertainment Ideas Inc ~ Event Entertainment for Party Planning in New York, Long Island, Nassau County, Suffolk County..... Caricatures, Digital Caricatures, Fashion Sketches, Graffiti, Calligraphy

You can click on most of the pictures in this blog to see them larger.
To Contact a Live Person:
partyentertainmentideasinc@gmail.com

Birthdays ~ All Ages, Children, Teens, Adult, Holidays, New Year, Christmas, Communion, Anniversary, Reunion, Graduation, 4th of July, Thanksgiving, Banquet, Surprise Party, Dinner Party, Garden Party, Reception, Openings for Stores or Schools or Camps, Prom, Afterprom, Bar Mitzvah, Bat Mitzvah, Sweet 16, Dances, Wedding, Engagement, Showers, Farewell Party, Cast Party, Housewarming Party, Baby Shower, Wedding Shower, Labor Day, Halloween, Mardi-Gras, New Year's Eve, Chanuka, Purim, Super Bowl Sunday, and more...... Caricature, Karicature, Characature, Carackature, Carikature, Characatures, Cartoonist, Long Island, Nassau County, Suffolk County, Merrick, Garden City, Brookville, Copiague, Franklin Square, Huntington, Lynbrook, Point Lookout, Long Beach, Lido Beach, Cedarhurst, Wantagh, Lawrence, Hewlett, Woodmere, Levittown, Mineola, Great Neck, Mineola, Port Washington, Roslyn, Manhassett, Oyster Bay, Woodbury, Bethpage, Jericho, Plainview, Brookville, Locust Valley, East Norwich, Massapequa, Patchogue, Wading River, Port Jefferson, Stony Brook, Setauket, the Hamptons, Sag Harbour, Northport, Cold Spring Harbour, Commack, Lloyd Harbour, Commack, Quogue, House Parties, Venues, Catering Halls, Restaurants, and more.....