People aren't so panicky about the pandemic now. More Caricature Parties are being booked. So I drew a new cartoon to describe my Favorite Set Up.
I can draw with just what I bring, in whatever space is available. And I can't tell ahead of time whether I would feel like Sitting or Standing. If I'm feeling tired or if I've been on my feet all day, I can Enjoy, and therefor Focus to create better Artwork if I can Sit. But if I had a long drive to the event or if I didn't go jogging when I usually would, I feel constrained if I have to Sit while drawing.
There are benefits to both ~ Sitting or Standing. For example, It's better to Sit while drawing Children because it helps them understand that they are supposed to stay there. And Sitting also helps the Artist to be closer to eye-level with the Children, so she's not confusing her Quick image by looking down at the tops of their heads. But Standing helps the Artist's Energy ~ She can dance around and position the Guests clearly. What the Artist Needs to create her best work is to be in touch with her own inner energies.
I bring my Standing Easel, but if the venue can also provide us with 5 Chairs, that's Super. It gives me the flexibility to switch as needed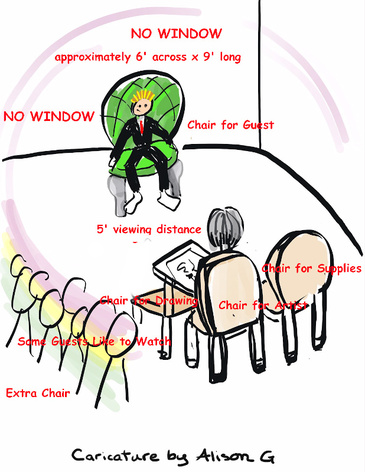 To hire this Artist, email optidust@gmail.com

Party Entertainment Ideas Inc ~ Event Entertainment for Party Planning in New York, Long Island, Nassau County, Suffolk County..... Caricatures, Digital Caricatures, Fashion Sketches, Graffiti, Calligraphy

You can click on most of the pictures in this blog to see them larger.
To Contact a Live Person:
partyentertainmentideasinc@gmail.com

Birthdays ~ All Ages, Children, Teens, Adult, Holidays, New Year, Christmas, Communion, Anniversary, Reunion, Graduation, 4th of July, Thanksgiving, Banquet, Surprise Party, Dinner Party, Garden Party, Reception, Openings for Stores or Schools or Camps, Prom, Afterprom, Bar Mitzvah, Bat Mitzvah, Sweet 16, Dances, Wedding, Engagement, Showers, Farewell Party, Cast Party, Housewarming Party, Baby Shower, Wedding Shower, Labor Day, Halloween, Mardi-Gras, New Year's Eve, Chanuka, Purim, Super Bowl Sunday, and more...... Caricature, Karicature, Characature, Carackature, Carikature, Characatures, Cartoonist, Long Island, Nassau County, Suffolk County, Merrick, Garden City, Brookville, Copiague, Franklin Square, Huntington, Lynbrook, Point Lookout, Long Beach, Lido Beach, Cedarhurst, Wantagh, Lawrence, Hewlett, Woodmere, Levittown, Mineola, Great Neck, Mineola, Port Washington, Roslyn, Manhassett, Oyster Bay, Woodbury, Bethpage, Jericho, Plainview, Brookville, Locust Valley, East Norwich, Massapequa, Patchogue, Wading River, Port Jefferson, Stony Brook, Setauket, the Hamptons, Sag Harbour, Northport, Cold Spring Harbour, Commack, Lloyd Harbour, Commack, Quogue, House Parties, Venues, Catering Halls, Restaurants, and more.....