I'll be drawing Caricatures at a 1-year-old's Party this Weekend. So I figured I'd look at some Anime for inspiration. Not that I would be drawing Anime. Actually, not sure How it would be affecting me. I just figure that Anime has a lot of Big Eyes that people like for their Babies.
Then I drew some random Baby faces just anywhere on the page. The first Caricature was still inspired by the Anime I looked at. I imposed those big oval Eyes onto the face, and it worked.
But it felt uncomfortable to just draw the same eyes for each baby. And the 2nd Caricature that I drew really didn't lend itself to that eye-shape. It still came out good, still looked like it was inspired by Anime.
Then there wasn't really any room left on the paper, but I wanted to draw more. I drew 2 more babies (small), and I dropped my Anime idea. It's a good idea, but it loses its appeal if I feel like I have to impose a standard Anime face onto each Baby. Babies, like all people, have all sorts of expressions and uniques.
I feel like it was good to expose myself to Anime. It might or might not affect my drawings.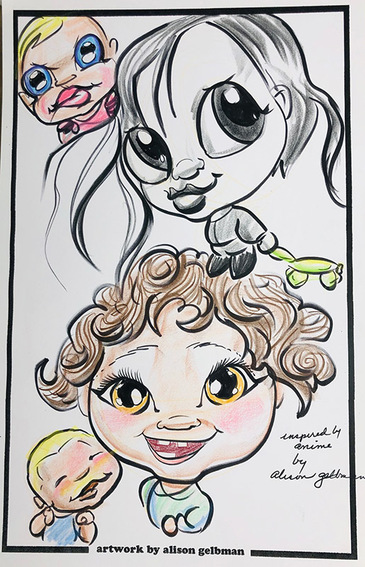 Party Entertainment Ideas Inc ~ Event Entertainment for Party Planning in New York, Long Island, Nassau County, Suffolk County..... Caricatures, Digital Caricatures, Fashion Sketches, Graffiti, Calligraphy

You can click on most of the pictures in this blog to see them larger.
To Contact a Live Person:
partyentertainmentideasinc@gmail.com

Birthdays ~ All Ages, Children, Teens, Adult, Holidays, New Year, Christmas, Communion, Anniversary, Reunion, Graduation, 4th of July, Thanksgiving, Banquet, Surprise Party, Dinner Party, Garden Party, Reception, Openings for Stores or Schools or Camps, Prom, Afterprom, Bar Mitzvah, Bat Mitzvah, Sweet 16, Dances, Wedding, Engagement, Showers, Farewell Party, Cast Party, Housewarming Party, Baby Shower, Wedding Shower, Labor Day, Halloween, Mardi-Gras, New Year's Eve, Chanuka, Purim, Super Bowl Sunday, and more...... Caricature, Karicature, Characature, Carackature, Carikature, Characatures, Cartoonist, Long Island, Nassau County, Suffolk County, Merrick, Garden City, Brookville, Copiague, Franklin Square, Huntington, Lynbrook, Point Lookout, Long Beach, Lido Beach, Cedarhurst, Wantagh, Lawrence, Hewlett, Woodmere, Levittown, Mineola, Great Neck, Mineola, Port Washington, Roslyn, Manhassett, Oyster Bay, Woodbury, Bethpage, Jericho, Plainview, Brookville, Locust Valley, East Norwich, Massapequa, Patchogue, Wading River, Port Jefferson, Stony Brook, Setauket, the Hamptons, Sag Harbour, Northport, Cold Spring Harbour, Commack, Lloyd Harbour, Commack, Quogue, House Parties, Venues, Catering Halls, Restaurants, and more.....